Grease Interceptor/Trap Services
Grease traps & grease interceptors are plumbing devices designed to intercept and capture the grease and solids flowing from your kitchen (Also known as FOG - Fats, Oils, Grease) before they enter the sanitary sewer system. Grease Traps/ Grease Interceptors have been around for decades playing a pivotal role in the safety of our environment by preventing costly sanitary sewer blockage and overflows.
The Des Moines Waste Water Facility (WRA) has adopted "The FOG Rule". The code states that a grease receptacle device must be serviced and emptied when 25% full OR on a quarterly basis, whichever comes first. SYNERGY has the ability to track all service intervals, FOG readings, any deficiencies & store every FOG report we generate. All collected grease trap waste will be transported to the WRA or a logistically designated EPA/DNR approved facility for disposal.
*SYNERGY IS A LICENSED AND CERTIFIED WRA WASTE HAULER* With our fleet of 5000 & 7000 gl vacuum trucks, you can rest easy knowing that Synergy has the top of the line equipment to do the job right from start to finish. Trust the professional , experienced, and courteous staff at SYNERGY to keep your facility safe and and always in compliance.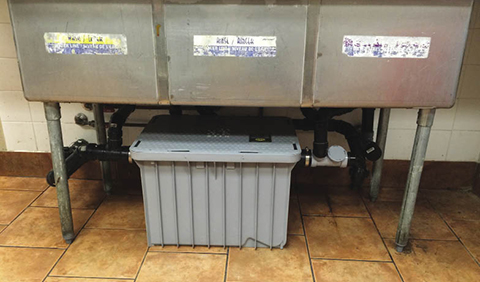 Grease Traps are smaller plumbing devices indoors ranging in size from 20-50 gl. Typically the grease traps are located by a mainstream sink area. Contact us now for Grease Trap Cleaning and Grease Trap Pumping services.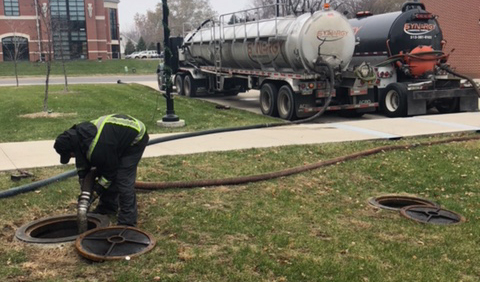 Exterior Grease Interceptors:
Grease Interceptors are a large in-ground outdoor tanks ranging in size from 500 gl - 10,000 gl. There can be multiple size tanks in series. Contact us now for Grease Interceptor Pumping and Grease Interceptor Cleaning services.
Proper Pumping Procedures for Grease
The grease removal device (GRD) needs to be cleaned when it becomes 25% full of FOG and solids OR when 3 months time has passed, whichever comes first. The following procedures must be followed to be in compliance with the WRA:
Step 1: Obtain FOG, solids, and liquid level measurement from the inlet chamber.
Step 2: Skim the entire grease cap and debris from the top of the GRD using pump. (Agitation may be needed to loosen the grease cap within some grease interceptors.) Remove all FOG first.
Step 3: Then place vacuum tube all the way into the interceptor to suck remaining solids from the bottom.
Step 4: Vacuum remaining water out of the interceptor.
Step 5: Clean the sides and bottom of the GRD by scraping down the walls. Ensure entire trap is clean.
Step 6: Vacuum remaining debris / water out of the trap. The contents of the interceptor (liquids and sludge) must be completely removed. No re-deposit of wastewater removed from the interceptor is allowed.
Step 7: Check that the sanitary tees on the inlet (not always present) and outlet (must be present) sides of interceptor are not clogged (remove debris), loose, or missing.
Step 8: Verify the baffle is secure and in proper place.
Step 9: Inspect the GRD for any cracks or defects.
Step 10: Check that lids are securely and properly replaced after completion of cleaning and maintenance.
Step 11: Dispose of waste and wastewater removed from the interceptor at the WRF. No discharge to any private sanitary system is permitted.
Step 12: Provide a copy of the disposal receipt for all waste and wastewater removed from the grease interceptor to the owner / operator of the FSE.